Yoga Retreat Rates & Dates
Choose your best yoga retreat date:
Rates for yoga retreat in Spain
All rooms ensuite and all inclusive. Rates are for single room occupancy (one room per person). For friends or couples wanting to share, please contact us for a different, lower rate:
Upstairs large room, garden views, private terrace, ensuite bathroom with tub and double sinks
- €1288
Downstairs room, shared courtyard, ensuite bathroom with shower
- €1088
(*all summer retreats except 2-8 September. Retreat in collaboration with Lilia Flower boutique. https://liliaflower.com)
ONE WEEK, ALL INCLUSIVE, MEDITERRANEAN YOGA RETREAT
Seven days, six nights

Includes:
Two yoga classes a day.
Two short meditations a day.
One evening Yoganidra introduction and meditation class.
One Ayurveda basics Lesson. Learn about the Doshas.
Three meals a day organic and vegetarian based (meat and fish available and optional).
Snacks (fruit, crackers, fruit bars) available all day.
Tea, coffee, mineral waters available at all times throughout the day.
Use of Spa, tennis court, pool, gardens, and gym.
One morning beach yoga (transport to beach and back provided, subject to weather conditions).
Yoga movie night every night, after dinner in our in-house cinema.
*Arrival day, dinner and welcoming chat. Departure day, breakfast served before departure. Schedule above for the remaining, full days.
Therapeutic massages, cosmetic and beauty treatments, day excursion to nearby islands and wineries and other activities available at an additional cost.
---
June to September Retreats:
Yoga teacher Pleuni Van Hulten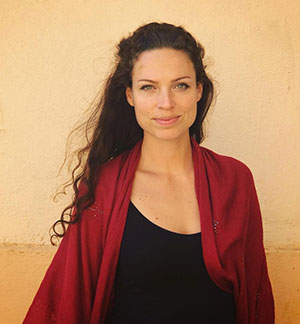 Pleuni teaches Scaravelli inspired Vinyasa Flow and Yin Yoga. In her classes we explore the bodies natural way of moving and we try to find a lightness in the practice. In her Vinyasa classes she works a lot with waving and rolling through the spine and moving with grace and fluidity. All the movements are connected. There is a constant pulsing of the body, the movement never stops and therefore brings you into a meditative state.
Besides her verbal instructions Pleuni gives a lot of hands-on adjustments in her class. This is helping students to deepen, stabilize, align or find more ease in a pose.
Her Yin yoga classes area total experience and are there to create a safe meditative space for her students to open up and work through physical and emotional blockages in the body.
You can see Pleuni teaching in the retreat in one of our videos.
Bo Kingdom. Holistic therapist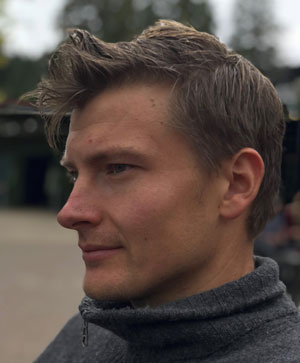 Bo discovered his love and ability for working with the natural flow of energy 17 years ago, when he became dedicated in mastering the art of Ki-Aikido, which focuses on presence and energetic integrity as a means to meet challenging and dynamic action.
Developing his skills in healing, alongside Aikido he studied Kiatsu, which uses energy channelling by acupressure to stimulate the natural healing ability of the body.
As his experience in energy work grew, he completed a training in holistic massage 9 years ago. This type of massage has since become his regular practice, alongside his work in Joinery (woodwork).
Aikido practice gave him the ability to allow, and direct energy flow through his hands, massage has revealed his deeper ability to be closer with the flow of energy and the senses. Combined they both support and shape the intuitive nature of the massages he now offers.
His interest within a session is to give you energy, contact and presence so that you may dive deeply into the subtle satisfactions of being human through the gentile enquiry of total relaxation.
A little about the massages that I offer:
Holistic massage embodies soft rhythmic touch through a continual flowing motion to invite the receiver to enter a space of deep relaxation.
That means it differs from many traditional massages as it is not focusing on releasing tension within the muscle tissue of the body by applying pressure to certain areas. Instead through a form of sensitive touch the whole body is bought in to relaxation. Energy that is extended through this contact plays a huge part in this practice and allows the receiver to find comfort and rest through the nurturing environment that is created. Before the session there is space to speak about this concept and to communicate what the receiver feels comfortable with.
(*holistic massage offered is not included in the Luxury Yoga retreat price as is optional. For rates, contact Bo on arrival to the retreat, or email us)
---
September 2-8 retreat:
Get in touch with yourself and nature through Yoga, plants and flowers
Retreat in collaboration with Lilia Flower Boutique. Private rooms, ensuite, and all material needed starting at 1588 euros. For shared accommodation with a friend or close one, please contact us. Teacher Pleuni Van Hulten
---